For the first time participating in
Wordcount Blogathon 2012
. Why? Because after taking part in the A-Z Challenge and blogging everyday for the month of April (I think I missed posting for two letters, and we didn't post on Sunday), I find myself posting daily and enjoying. The Wordcount Blogathon will help make daily posting a habit.
Research
has shown that it takes 66 days to either break, or begin a habit.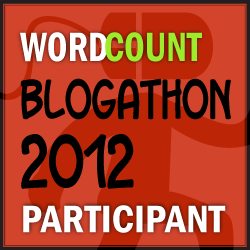 Speaking of starting a new habit, I'm really going to try to get up in the morning by, at least, 6am. I'm not an early riser for several reason. Sleeping in when the house is quiet after everyone has gone is heaven. The other reason I don't get up early is that the girls
hate it
when I get up early. I like to talk and ask questions in the morning: "how did you sleep?', "what are you doing in school today?" "how is …..doing?" "don't forget to do your chores?" They like peace and quiet in the morning and they
really like it
when I'm still in bed by the time they leave for school.
If mom's not up, I don't have to do my chores!
Join me this month where I will write about faith, family, knitting, quilting, and my new favorite passion-running.