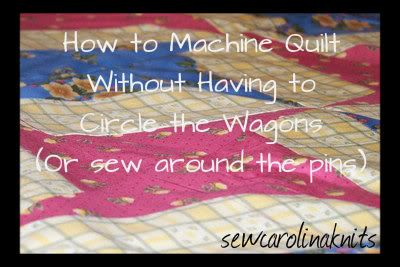 This is an update to a post I wrote last October:
How to Layer a Quilt
. After much research, I finally figured out how to add an URL to an image so I could upload this tutorial to Pinterest. And, essentially, I'm not teaching you how to layer a quilt, but how to prepare a quilt so you can machine quilt without having to 'circle the wagons' or sew around the pins.
After reading the article "Wholecloth Inspiration" by Cindy Needham in the November 2009 issue of
Machine Quilting Unlimited
, I thought I'd try the suggested method when preparing my quilts to be machine quilted. This method is time intensive, but I now use it whenever I'm machine quilting. The article is geared to quilting a whole cloth quilt, but I took the tips and applied them to quilting 'regular' quilts. (Unfortunatley the 2009 issue isn't availbable anymore, but here is the link to the
magazine
website.
Here is the quilt top with batting and backing.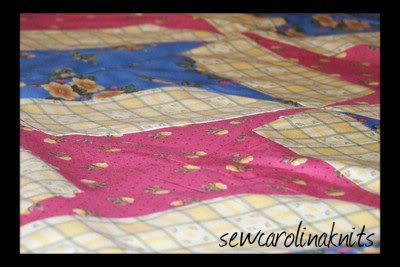 Quilt pinned with curved pins. I use the Kwik Klip to close the pins, it keeps my hands from hurting after closing 20-30 pins.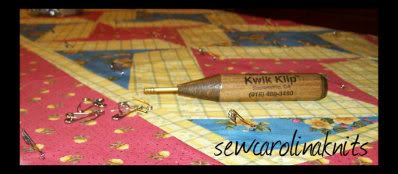 The article I mentioned above recommends basting the quilt with
Superior Threads Vanish Lite
water soluble thread, which can be used for the top and bobbin.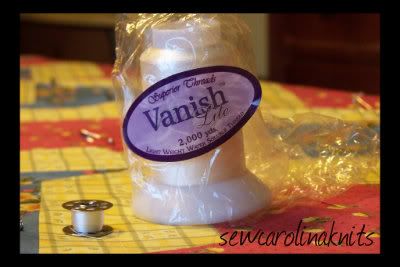 I pin, then machine baste the quilt using the largest stitch length and making a grid with lines about 6-10" apart. The article recommends keeping the pins in, but I remove them to make it easier and quicker to free-motion quilt.
The thread is water soluble so after I've finished doing the machine quilting, sewn on the binding and added the hanging sleeve I wash the quilt in the washing machine and I'm all done! After washing the quilt comes out so soft and cuddly.
I hope this method works for you!