Today I was going to write about venting. Venting, and how when you vent, in my opinion, it tends to escalate whatever it is your venting about..depending on what that is. For example, if I'm venting about how crazy my co-worker irritates me, am I doing it so the other person I'm venting to will think ill of that person as well. Will my irritation escalate and send me to vent to others? OK, yes, someone drove me a little nutty last week. I was ready to text my friend F. to let her know so she could commiserate and agree with me on how nutty this person really is. I took a deep breath and thought, does F. really need me to inundate her with more negativity. Let's stop the negativity rollercoaster. So I didn't vent to F. I did vent to The Big Guy, but he's an impartial party, he listened, commented where it needed and you know what…I felt so much better. OK, so this doesn't make any sense……I don't think I put my thoughts into words as well as I was hoping to…!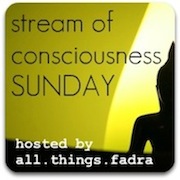 This was my 5 minute Stream of Consciousness Sunday post. It's five minutes of your time and a brain dump. Want to try it? Here are the rules…
Set a timer and write for 5 minutes.
Write an intro to the post if you want but don't edit the post. No proofreading or spellchecking. This is writing in the raw.
Publish it somewhere. Anywhere. The back door to your blog if you want. But make it accessible.
Add the Stream of Consciousness Sunday badge to your post.
Link up your post below.
Visit your fellow bloggers and show some love.