Yesterday at the girls dance competition there was a gentleman sitting behind me and to the right who had a prosthetic leg. I couldn't take my eyes off him. He was sitting with his prosthetic leg across his other leg and at one point he was rotating his leg around 360 degrees! Those of us sitting around him chuckled as he was doing that, I was fascinated. As a nurse, I wanted to ask him all kinds of questions regarding his leg. I hesitated, but finally got the nerve up to ask him. I learned something new, that there is phantom pain and phantom sensation. He says that sometimes he will feel an itch near his shin, he'll be scratching away and look up to see people staring at him quizzically wondering 'why is that guy scratching his metal let'?. I also found out from his friend, (who it turns out was in the same places I was stationed as an Army nurse, and had her baby at the same hospital I had my youngest….we just never knew each other then!), that before he lost his leg he had been injured with a bullet to his neck area, needing reconstructive surgery. After the surgery he returned to his unit and before the unit was set to return home, he lost his leg. I'm so glad I took the time and had the courage to not only ask my questions but thank that soldier for his heroic service to our country!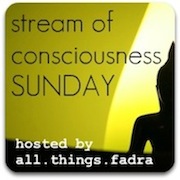 This was my 5 minute Stream of Consciousness Sunday post. It's five minutes of your time and a brain dump. Want to try it? Here are the rules…
Set a timer and write for 5 minutes.
Write an intro to the post if you want but don't edit the post. No proofreading or spellchecking. This is writing in the raw.
Publish it somewhere. Anywhere. The back door to your blog if you want. But make it accessible.
Add the Stream of Consciousness Sunday badge to your post.
Link up your post below.
Visit your fellow bloggers and show some love.