Work, good or bad, in home or out, is good for what it provides. A social outlet, food on the table, whatever work gives you it's good as long as you have a refuge to turn to after the day of work ends…I know I'm rambling. Good day at work, good crew, sweet babies, tough parents, terrible doctor who forgot his manners, but all in all a good day. Drive home uneventful, actually not that much traffic. I 'm heading home to the ones I love. Dog barking excitedly giving me that smile that is only a Chessie smile. Looking forward to watching and critiquing the gowns wore by the starts. dinner is eaten, spaghetti and wine. On the tv…Never Say Never, the Justin Bieber story…Bieber fever!! OMG!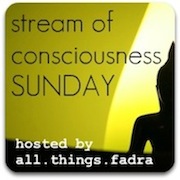 This was my 5 minute Stream of Consciousness Sunday post. It's five minutes of your time and a brain dump. Want to try it? Here are the rules…
Set a timer and write for 5 minutes.
Write an intro to the post if you want but don't edit the post. No proofreading or spellchecking. This is writing in the raw.
Publish it somewhere. Anywhere. The back door to your blog if you want. But make it accessible.
Add the Stream of Consciousness Sunday badge to your post.
Link up your post below.
Visit your fellow bloggers and show some love.