This was my 5 minute Stream of Consciousness Sunday post. It's five minutes of your time and a brain dump. Want to try it? Here are the rules…
Set a timer and write for 5 minutes.
Write an intro to the post if you want but don't edit the post. No proofreading or spellchecking. This is writing in the raw.
Publish it somewhere. Anywhere. The back door to your blog if you want. But make it accessible.
Add the Stream of Consciousness Sunday badge to your post.
Link up your post below.
Visit your fellow bloggers and show some love.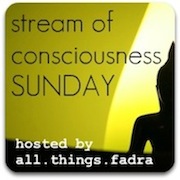 Resolutions, goals…too many are whirling in my head right now. I don't like resolutions since once stated then you are held accountable to keeping them.. So instead, these are the things that I would like to do for this upcoming year.
Finish at least three quilts
Publish three knitting patterns
Run three 1/2 marathons..I'm already signed up for the SunTrust Rock and Roll 1/2 marathon March 17.
Pray a decade of the Rosary/ day, which will hopefully get me to praying a Rosary Mystery/day
Continue reading the Bible
Continue blogging at least every day in order to become a better writer.